MasterBrand Cabinets
Variety Within

Open kitchen layouts and multi-functional spaces that foster inclusion and visibility to areas of the home have gained importance with current lifestyle shifts. 87% of survey respondents say the ability to tackle a variety of activities, such as homework or game night  in the kitchen has become their new normal.

Clutter Busting

Minimizing clutter, cleaning, and targeted storage are critical –particularly with newly heightened awareness– throughout the house, especially in kitchens and baths where there are multiple high-touch zones and supplies are often stored. According to 80% of folks surveyed, that's where their focus lies-- we're here to help them get the job done efficiently!

Safe and Healthy

Planning kitchen details that help to be more health conscious– whether in fresh food storage or managing the health and safety of their family, these details have seen significant growth for consideration.  Items like a locking drawer storage system  appeal to nearly 50% of lifestyle survey respondents.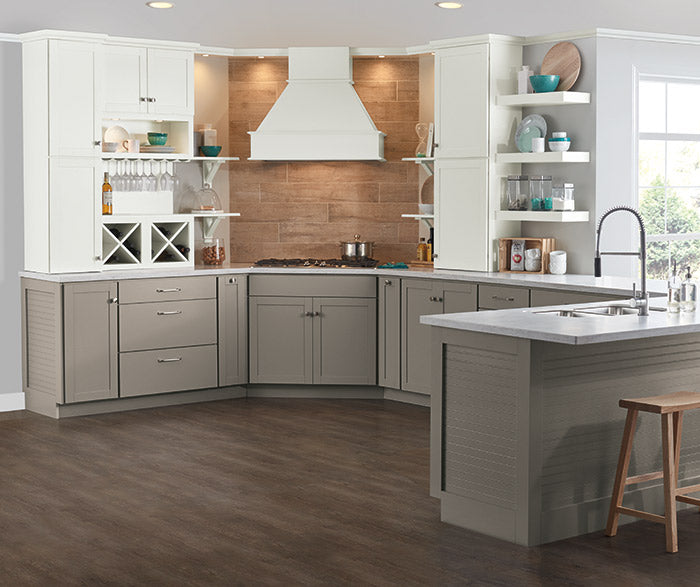 Design Style  Transitional
With room to conceal and room to display, this space with Brellin PureStyle White and Stone Gray kitchen cabinets is full of functionality and personality. Floating shelves, Wine Storage cabinets and more offer unique solutions for all of your organization needs.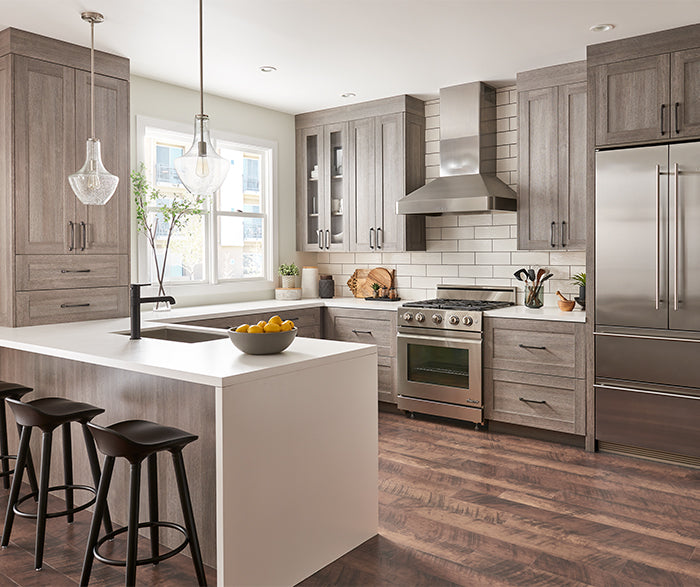 QS Oak in shaker door
Open kitchen layouts are not just for islands. If space is an issue, a peninsula serves just as well to separate the kitchen from the living area and add seating for a casual dining area. These cabinets are dressed in Wired Silver Textured Melamine for a slightly weathered look and touch.
More options with MasterBrand
Pet Care

Create a feeding station with storage space for pet food and treats. This one was created using a Diamond cabinets.

Gourmet Super Cabinet

Keep cooking essentials neatly in place with the ultimate storage and organization wonder, the Gourmet super cabinet, featuring pullout racks and shelves for easy and fast access.

Textured Glass Cabinet Inserts

Decorative glass cabinet door options also include textured inserts with fashion-forward effects, such as bronze fabric, cocoa rice paper or metallic linen, as well as classic looks like reeded or frosted glass.
Cabinet Design Trends You'll Love
What's hot today and what's on the rise? Learn more about design trends in kitchens and bathrooms that you'll want to feature in your home.