Decora Cabinets
Classic Creativity

Traditional details, like crown molding and furniture-style island legs, pair with a punch of bright blue color and contemporary accents to give this space an eclectic energy. The built-in coffee bar near the breakfast banquette is an eye-opener.

Finishes Shown:
Rainfall on Maple
Weathered Ash Brown on Cherry

Island Life

Functionality meets flexibility when a kitchen has two islands – one for cleaning up, the other for seating. Or is it one for prep and the other for serving? No matter which, both sit under a suspended ceiling grid that shares their warm wood finish.

Finishes Shown:
Cannon Grey on Cherry

Homespun Comfort

This farmhouse-inspired kitchen delights the senses. Vintage china displayed behind antiqued glass catches your eye. Leather door inserts on the island base beg to be touched. And the low counter baking station hints at the wonderful aromas coming from the oven.

Finishes Shown:
Praline on Cherry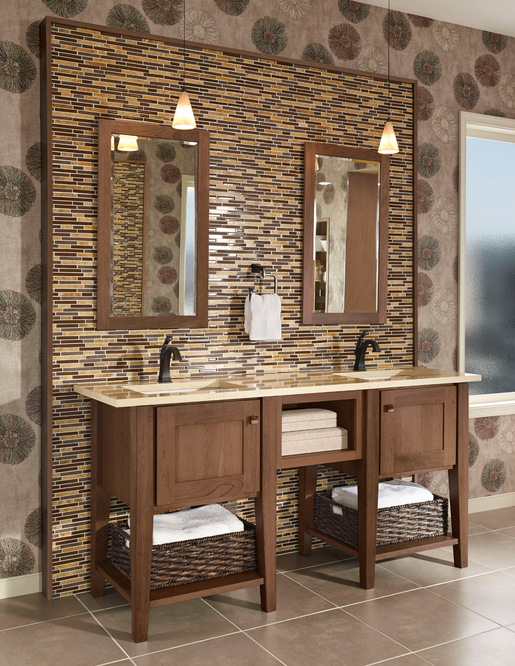 Turn the Tables
Console vanities give you the look of fine furniture in your bath. This handsome example was created by using a modern take on a Shaker-style door and pairing it with tapered legs. The warm brown finish makes for a nice contrast in front of the dramatic, glass-tiled wall.
Finishes Shown:
Husk Suede on Cherry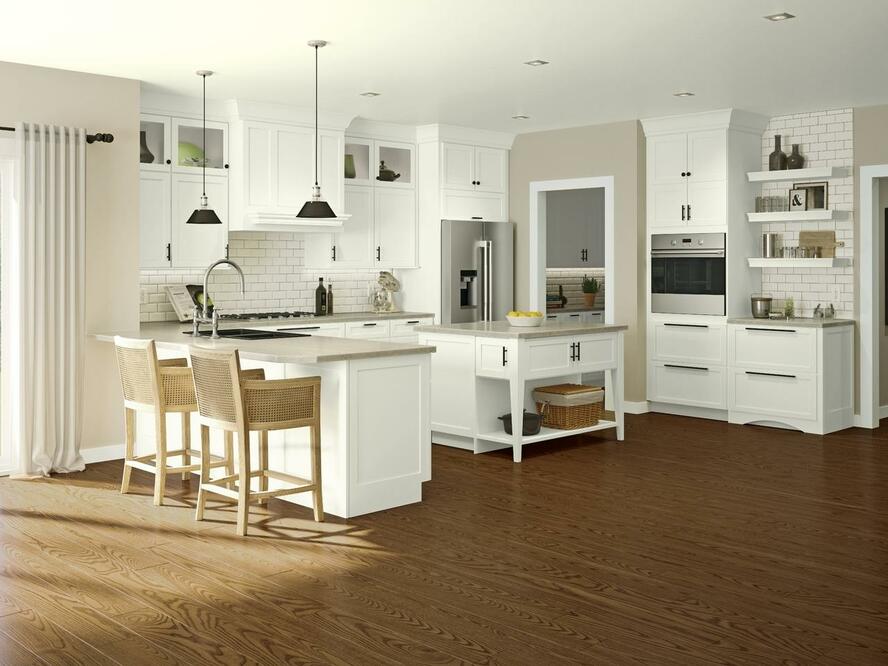 Clean Living
The clean, simple lines of Shaker-style cabinets and subway tile are enhanced by a touch of warmth when paired with dramatically grained flooring.  Floating shelves, glass display doors and an island with an open nook allow for decorative touches that bring an approachable, lived-in personality to this otherwise pristine space.
Finishes Shown:
Dove White on Evercore
Multicolumn
Penthouse Office

Inspired by the skyscrapers that rise up from the surrounding city, wall columns, finished in contrasting Chocolate, frame the upper Canvas-painted doors in this office. Glass inserts, metal legs, a curved desk and accent lighting contribute to a modern vibe.

Finishes Shown:
Canvas on Maple
Chocolate on Maple

Tidy Package

The Dove White finish keeps this compact kitchen light and airy. Details like a Classic Chimney range hood, corbels and accent lighting make it interesting. V-grooved paneling behind the open cabinet is stained to match the wood countertops.

Finishes Shown:
Dove White on Maple

Inner Sanctum

What makes a bathroom a retreat? It's the warm welcome you get with a design like this. Doors, drawer fronts and decorative end panels surrounding the soaking tub show off the beautiful Cherry. Using a bank of cabinets to separate the walk-in shower alcove creates privacy without closing off the room.

Finishes Shown:
Sunset on Cherry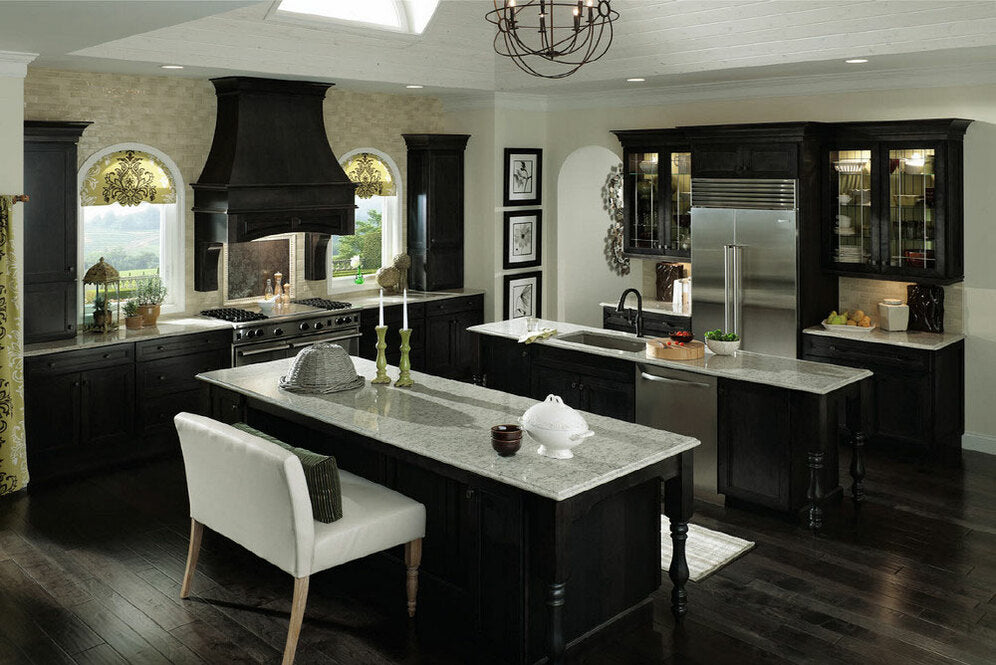 Slate maple
Dual islands aren't the only thing that define this luxurious transitional kitchen. An impressive wall hood and wall cabinets flank the arch-top windows in perfect symmetry. The same graceful balance can be seen in the glass display cabinets on either side of the refrigerator.
Finishes Shown:
Slate on Maple